Fascinating Women 2022: Marites Iwag, Founder Of Healthy Bean
A trip to Bali sparked her passion for creating gourmet, healthy pastries and desserts!
 Over the course of the pandemic, we've had our fair share of guilty pleasures—think the wildly popular ube cheese pan de sal, Dalgona coffee, and Korean fried chicken wings. While we've allowed ourselves to indulge in these kinds of food once in a while, we've also discovered a lot of good-for-you treats. Case in point: Healthy Bean. Chancing upon this Instagram page while randomly scrolling was a godsend. Craving chocolate, cake, cookies, and whatnot on a daily basis is not a license to give in. But if we can have healthier options for such sweets, we say—why not?
The woman behind the desserts brand Healthy Bean brand is 31-year-old entrepreneur Marites Iwag. One to typically shy away from the camera, she proudly boasts of her sugar-free, dairy-free, gluten-free creations online instead. One scroll through Healthy Bean's Instagram page immediately sends you into a crave-fest, and the good thing is—you can actually indulge without the guilt (read: her offerings are actually delicious!)
Offering scrumptious alternatives for customers with special dietary restrictions is on top of Marites' priorities. Her business exists not just for monetary gain though—she confesses that this business is a life passion, and her main reason for getting up early in the morning. For this month's Metro.Style Fascinating Women feature, we talked to this amazing entrepreneur who has had her fair share of challenges from a very young age. Read on to find out why her wellness business is something you should be supporting right now.
Metro.Style (MS): Please tell us about your beginnings. How did you get to where you are now? Has this field always been your passion?
Marites Iwag (MI): Truth to be told, it's really hard to to start a business. I had three businesses my entire adult life, and I didn't even go to college. I unfortunately didn't have much access, a support system and money until I turned 25 years old. I am turning 32 this June. My life before was a real big confusion. I have always been independent ever since I was a kid because of family relational situations. I have experienced many different types of jobs—good, bad, and just okay financially. I can never fully say I was happy with what I was doing.
I then decided to slowly and patiently save money for a while so I could take 12 different courses all about fashion for almost more than a year. That included fashion styling, marketing (branding), and merchandising skills that I believe I am able to use in my pastry business now. I took workshops so I could at least gain skills to start a fashion clothing business. I always wanted to start an online clothing store so I aimed for that for my first business as soon I finished all my fashion workshops. But just like many startups, it failed. It was very difficult. Money is quite hard to control when you are the only person involved and it's the first time you're doing it.
So I decided to take a 2-week yoga retreat vacation in Bali, Indonesia where I learned about how to make vegan chocolates, and that experience really made my heart sing.
For the second business, I decided to rebrand imported fashion accessories and it brought me success—but only financially. I got to a point that I burnt myself out for working on something that was bringing me revenue but did not make me happy inside. So I decided to take a 2-week yoga retreat vacation in Bali, Indonesia where I learned about how to make vegan chocolates, and that experience really made my heart sing. There was that emotion of extreme happiness telling me, "this is it!" I believe this what we all need.
After I came back from vacation, I started working on planning how I could shift my business from fashion accessories to pastries because I also had money sleeping on my unsold clothing products that time. It took me three months to prepare and properly start my online store Healthy Bean. I was doing all the chocolate making all by myself, and then eventually, a lot of people loved the handcrafted dairy-free chocolate bars that I was selling for Php 350.
Then they wanted it in cookies, muffins, cupcakes and then cakes. I finally had the opportunity to market my store and started the peak of my healthy food business during the first hit of Covid-19 where everyone was restricted from going out, and where a lot of food establishments had to close down. Basically, I simply followed my customers' leads and directions on what to do and where to go with my business. It was always been about following my customers' needs and making them happier with their food experience in our store.
MS: Tell us the top 3 most valuable lessons you learned along the way.
MI: Being true to and trusting my self with the process. When I started to believe that everything is available for me to receive—personal success, the abundance naturally came with it. It gave me more courage to put everything I dreamt into reality. I now understand that true passion and how to turn that into business is all about nurturing yourself and focusing your energy towards things that bring us joy. When I embodied the attitude that aligns with what I wanted out of life, my work never tired me out, and it actually never made me feel like I was working. It made me feel accomplished.
Perseverance—we can't rush things! I've learned that even if it feels like we've already gotten what we aimed for, life won't necessarily get easier. In the reality of life, it will never be like that. Life is unpredictable, and no matter how far you've come from your old self, there will always be challenges to face, and that's what truly makes you successful. We become stronger with every challenge; that's how we mature in life.
Independence—I need to bravely share this one. I still have times when it feels very hard, and I don't even have anyone to talk to about my struggles. I was raised in a not-so-abundant type of family relationship since I was young, and up until now, I still have those trauma patterns that I've finally come to accept. I've learned to love and accept myself. Perhaps this is why I love my work so much that I've become addicted to reaching my goals, because it's my way of showing myself love. It's my way of validating myself, because I strongly believe that we are responsible for our own happiness and success.  When I realize how much hard work I've put into my business, I get that instant feeling of gratitude and contentment.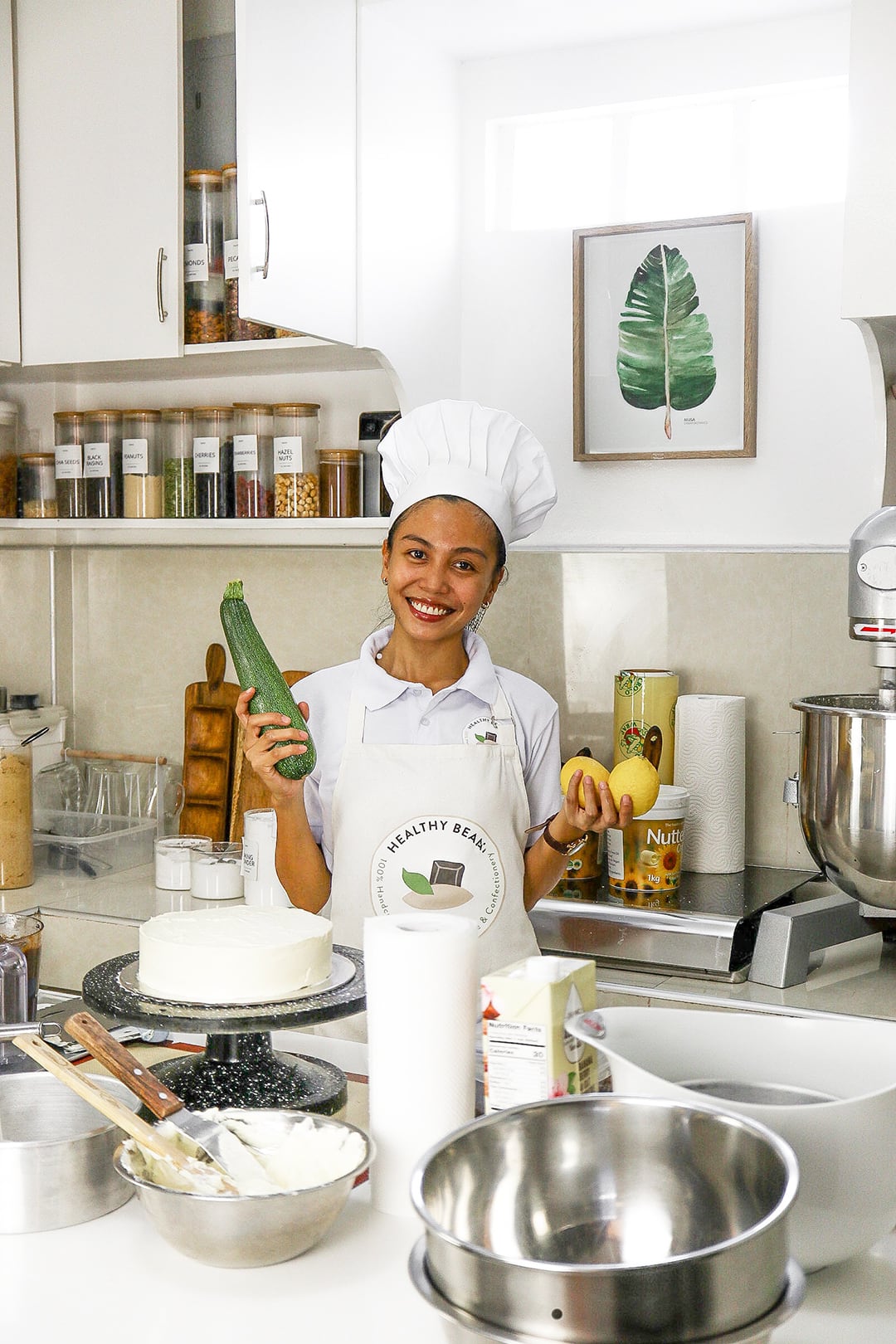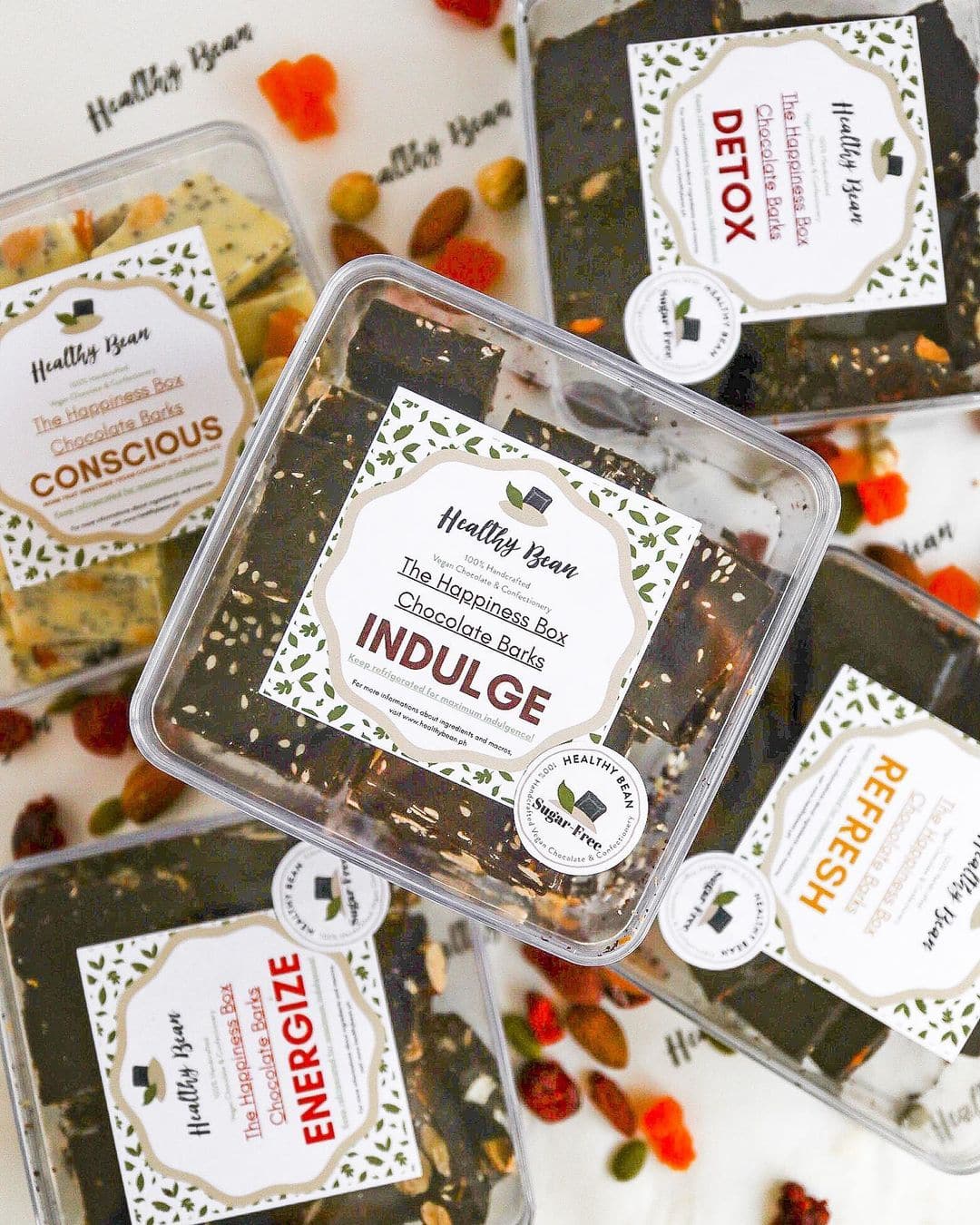 Healthy Bean dairy-free chocolates for the sugar-sensitive (available in monk fruit sweetener and coco sugar sweetener) |

 

@healthybean.ph
MS: What makes you wake up in the morning? What is your passion?
MI: I love waking up as early 3am in the morning everyday. I have my daily routine that I now naturally and unconsciously follow. Right now, I'm so obsessed with everything about my work, I am now mostly an introvert person, living and spending a lot of my time learning, which allows me to nourish more of my ideas for the betterment of my business. I am always excited to turn them all into reality!
But I also believe that for me to be able to accomplish more, I also need to be in the best state of my physical and mental health this is why I love to navigate my life in healthy ways, like choosing healthy choices of food and exercising.
My true, main passion is to live the best quality life I can possibly live for each day. That can mean working hard towards my future goals, feeling good by eating happy foods that are healthy, or it can be as simple as reading for more inspiration and wisdom in life. It can also be as simple as doing personal space organization. I also love to spend my spare time doing pleasurable, relaxing things for myself, like unwinding as a form of rewarding self-care. I love taking myself to dates that give me a feeling of celebration for my achievements, to boost my performance at work.
MS: If you could change one thing in your journey, what would it be?
MI: I can no longer think of any reason to feel unhappy or discontent. I don't want to change anything that I have worked super hard for! I am that happy now. I would rather want to learn more about changing my mindset and perspectives so I can improve more and enhance my skills. There's so much to receive and learn if we just take time to give action. I don't want to settle with what's already there.
MS: As a woman today, what do you think is the value you want to pass on to future generations that will come after you?
MI: I am huge believer that success is available for everyone. If only I could write a book about my life and share in detail how I got through all the challenges in my life, I would love to share all of it. My business mission and vision is not only to encourage people to eat and look physically healthy, but I also want my business to be strong proof  that taking care of our body and choosing healthy can change our lives completely. Taking care of you matters so you can achieve more out of life.
MS: If you could go back in time, what would you like to tell your 18-year-old self?
MI: I will tell my 18-year-old self, "Thank you for your patience and for believing in me. Thank you so much for helping me take good care of me. Thank you for always showing up and believing that everything that we wanted to become and what we are now was always possible and that we deserve it. I love you so much, Self."
MS: What's next for you and your brand?
MI: To be honest, I still get very overwhelmed with gratitude, and I just always want all the best for my store. I still have so many ideas that are always about making better experiences, and making all my customers happy. It makes me happy when I help satisfy them, even when they used to believe they couldn't enjoy pastries and desserts because of their dietary restrictions. 
Some plans include beautifying and making my store a good place to share happiness. I want to give the best possible experience to all my customers, especially to those who are obsessed with our products. I want to influence them more, to help one another live our best lives—by choosing happy food for a very happy life. That's also why I love making  an effort of sending out orders with a gift-like feel, to make customers feel like they are being treated.